Betway is currently one of South Africa's most popular bookmakers with plenty of positive feedback. Despite the shaky start, Betway invested a lot to become a reliable and secure platform for every user.
If you are to bet right now, which bookmaker would you choose? And why? Your answer might probably be far from the one whose business is solely online. Well, this time you might change your mind because Betway is offering many advantages in comparison to the bookmaker you got used to. One of those things might be a welcome bonus which you can use to place real-time bets. For existing users, we will provide detailed info about common questions.
How to Sign Up?
It will take you less than 5 minutes to sign up but be aware that you will need your ID and personal information. As stated before, Betway is a secure platform so it must be confirmed that in any case, you are not underage.
When you open up the page, you will clearly see Log In button in the upper right corner and that is where you enter your username and password. New users will have to find a Register Button which is usually under a field where you write your username. If you forgot your password, follow the link under a field for password.
When you do that, you should see a registration page – like this one below – where you can enter your information, personal details and contact details. The process is more or less the same on your phone as well. On Betway mobile app, you will need to enter your phone number for verification. Ignore the Sign Up Code field if you don't have one.
The last step will require sending your Fica documents for verification. You can do so by sending them to [email protected]. Be aware that you need to fund your account to be able to use it.
Welcome Bonus
After you sign up, you can collect your bonus. To do so, you need to check the box 'I wish to receive the Sports Welcome Bonus offer' and click accept. You need to make your first deposit to do that. After you made your deposit, you will get 125% of your deposit amount (maximum of R1000).
You can use this Betway Free Bet bonus just like your deposit for the means of betting. This might be one of the biggest advantages of this online bookmaker. Right on the beginning, you will get a boost. If you are a new user, you don't want to miss out on this one!
While it might not be the biggest bonus on the market, it still feels good to play the first few times 'on the house'. Keep in mind that like any other bonus, this bonus has its own terms. To be able to make a withdrawal from your winnings, you need to wager your bonus eight times. Each time it needs to be at odds of at least 1.75. After that, you will be able to make a withdrawal of your winnings.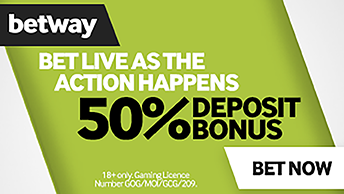 Betway Withdrawal
On Betway, you can use numerous withdrawal methods. Betway accepts MasterCard, Visa, Visa Electron, direct bank transfer, PayPal, Skrill, Neteller and many more. All of these can be used to fund your account as well as withdraw your winnings. Keep in mind; Whatever method you chose to fund your account will be automatically placed as a default payment method.
Unless you specify another provider, your withdrawal will go to the same account from which you placed your funds. To change this, you will need to contact customer service. You can always find the customer service info for your area on the main page. Customer Service can be reached via email [email protected], live chat or phone.
How to request a withdrawal?
When you log into Betway, you need to navigate to 'My Account'. Select the 'Withdraw Funds' option. Then, you need to complete the Withdrawal Form by providing the bank account details. In the last step, you will choose the amount you wish to withdraw and that is it. You might be asked for some verification details but generally, you are done.

When will my Withdrawal be processed?
Usually, there is the '72 hour hold time' and after that, your sum will get on your account. This process can take a while and it mostly depends on your bank. It can last up to 5 days. In case you are still didn't get your money, contact customer service or check it with your bank.
Betway Mobile App
Betway Mobile App can be easily downloaded from their main page. However, there are some additional steps to take in between if you are using an android. First of all, you need to go to your device's security settings and "allow unknown applications". Now, you can let the APK file to download and install.
For iPhone users, the Betway app is available on App Store. If you hate all the process with downloading apps and space they take on your phone – we have a solution for you. It is Betway Mobile Site.
Betway Mobile Site
Betway Mobile Site is one of the easiest to use and most stable in comparison to many other bookmakers. There is no installation required to access the site. All there is to do is search for the page in the browser and immediately you will get access to the full range of markets and features.
It is just as you would access it on your computer. While we still recommend the app, this is a great replacement. You can find a user-friendly mobile site no matter which web browser you use. Just like the app, the mobile site will safely store your personal information and banking details.
Tips on getting the Betway Bonus
If you are not sure how to snatch the Betway Bonuses, we can help with a few tips. The first advice you should go by is – go small. Place smaller amounts to avoid risk. You will have a lot of freedom to play on many games if you choose to put smaller amounts of money on each one. While the quickest way to get the bonus released would be to place your entire deposit on one bet, it is not the safest way.
Stick to the familiar sports. If you played football or you are a big fan, then stick only with that sport. Your knowledge is the key here. While each game might surprise you, the chances are that it will more likely go as predicted.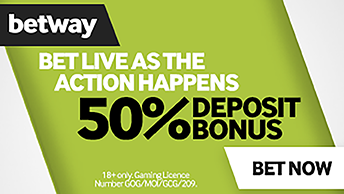 From time to time, Betway will run bonus deals that will allow you to place sports bets on enhanced odds. Just keep in mind that you need to clear the bonus in 7 calendar days. Even though you will have good odds on any day, you don't wanna miss these bonuses.
Now, the best way to get your bonus is to play smart and make the right moves. Making a lot of small moves is the key. Be patient and follow the news about sports of your interest. In case you are a football fan, you are in luck because Soccer 10 can keep you updated.
What is the Cash-Out option on Betway?
Sometimes, you won't be so sure that you made the right choice when the game starts. Things can change quickly and you might be aware that you will lose a great amount of money. If you use the Cash Out option you can get a portion of your money back before the event is over. Even if you are in the middle of the game and you realize that you will definitely lose, you can still give up on it.
Make sure you request this before the venue is over and before the deal is settled. You can avoid losing big amounts but you still need to be aware that not all of your money will be returned to you. So don't just go and jump into risky bets. Play it safe and you will always win!